I was going to create a September blogging challenge for you but then I thought why not just list some topics for you instead. Hope this helps get your creative groove on.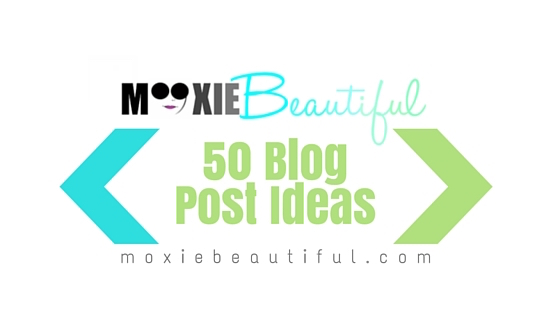 Here are 50 Blog Post Ideas for You:
your favorite outfit to wear
an Instagram round-up
a creative fun bio about your pet(s)
talk about your favorite television character
the last movie you saw at the theater
describe your favorite Moxie attribute, what's your Moxie
blog something about food
a book review, the latest book you read
look over the last few Tweets you favorited
tell us about one of your guilty pleasures
what was your high school fashion/style back in the day
before and after pictures of a declutter project
travel – where did you travel last or where are you going
your latest purchase
what is your favorite app
highlight 3 of your favorite bloggers
a local event
your signature dish
nothing but photos post – do a photo collage of your day
interview someone
what brings you Joy?
create your own DIY project
write your own 50 Blog Post Ideas list
list the top five restaurants in your city
give us a best kept secret about your city
tell us about the last Facebook Page you Liked and why
do a beauty product/makeup review
tell us about a brand/company you'd like to work with and why
interview yourself
list your pet peeves
describe your dream vacation
helpful hints on basic household chores
what is your favorite candy
a montage of "firsts" – first kiss, first date, first car, first day at college, first job, etc etc
describe in detail what made you smile today
share with us your morning routine, evening routine
favorite time of the day and why
what are you loving now, make a list
what fashion trend are you most looking forward to this Fall
make a list of your favorite things about Fall
what will you miss about summer
what's in your handbag
your favorite accessory
top 5 must-have plugins for your blog
create an exercise routine
what is on your playlist
something you absolutely cannot live without
what do you want to do on your birthday
show us the place from which/where you blog
what would you wear to a Blogging Award Show if it were a big red-carpet deal
And there you have it, your 50 Blog Post Ideas.
Thanks for reading and show me Your Moxie!