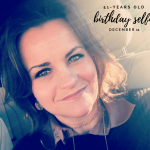 Well hello, there my Little Love Bunnies! Some of you may know that I turned 51-years old recently. Last year I did a post about 50 Things when I turned 50, so guess what; we are doing it again this year. I present to you, 51 Things This Year.
51 Things This Year
Things I may have learned, things I may have let go, things I may have enjoyed, places I may have visited, people I may have said goodbye to, or people I may have met or maybe things and events I want to do this year. This is my 51 Things This Year.
Relax – a future post on this is forthcoming.
Smile more.
Listen.
Had a Vegas Vacation.
Went to Tunica.
Family from Ohio came to visit me here in Alabama.
Girlchild moved back home, which is fine with me!
I started a new job in late January.
Got the new iPhone 8.
Received an Apple Watch for my birthday.
PR'd my power clean.
Can finally do double-unders.
Did ONE kipping pullup.
Got a new car.
Talked The Gent into growing a beard and I like it.
Paid off some bills.
We bought a new mattress.
Went through some planners.
Traveled to North Carolina for work and got to drive BMW X3s and X5s on track against competitors and it was glorious!
Traveled to Atlanta for sales training for work. Awesome!
Participated in the 2017 Reebok CrossFit Open.
Rebranded the blog.
I didn't blog very much in 2017 and when I did it was about nothing.  I skipped over the whole month of October!
Started a garage gym. Well, I have some equipment.
Letting my hair grow out long.
Became a Netflix binge watcher.
The Crown, season 1 and 2
Mindhunter
Bloodline
Stranger Things 1 and 2
Ozark
Godless
I feel like I got more sleep in 2017.
I don't watch the so-called news as much anymore.
PR'd my power snatch.
I've met some great people this year.
I have learned a lot by being in my new role,  new career. A lot! And not just professionally but personally too.
The eclipse! I got to see the eclipse!
Discovered Heather Land and I Ain't Doin' It.
#MoxieFit50
Get lean, lose more fat this coming year. Get serious about my eating habits.
Sell 156 cars in 2018. Goals.
More quick getaway trips with The Gent in 2018.
Grow a more consistent positive attitude.
Stay with ONE PLANNER IN 2018!!!!
Go to the movie theater more.
Blog more!
Stay in my own lane.
Start a circle of trust, board of directors, close-knit friends to discuss things with.
Learn, better, how to respond and not react. And practice it.
Never let them see you sweat.
Your Charmingly Bold Generation-X Blogger,