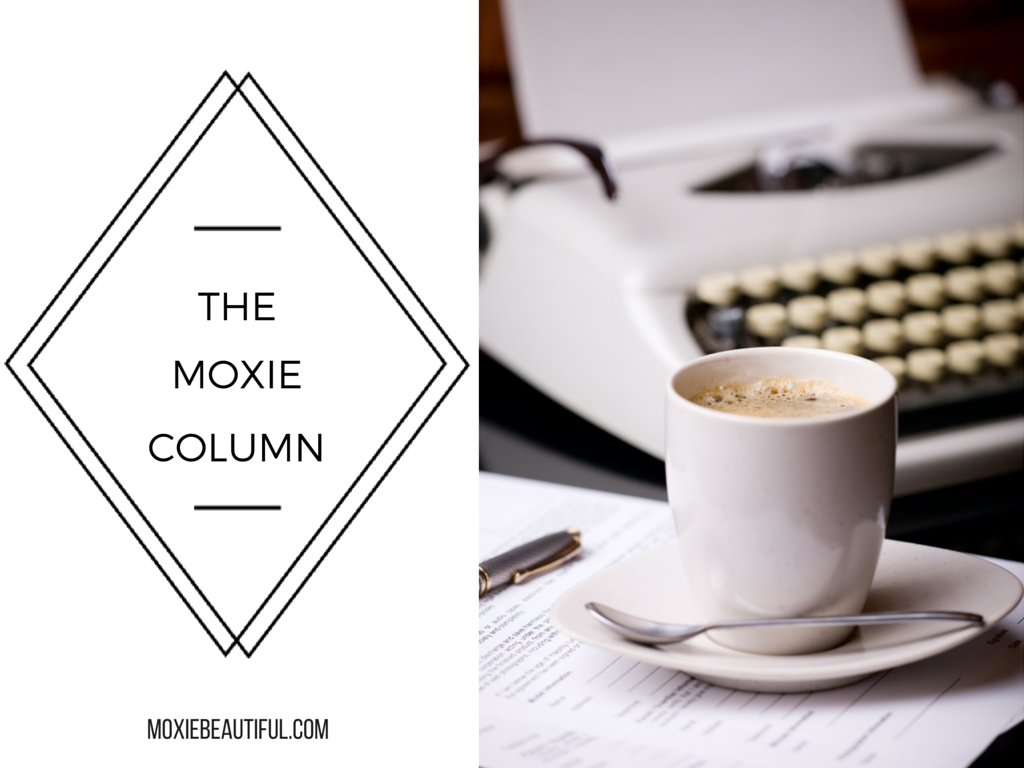 Is anyone out there? Are you reading? Have you been a regular follower of my blog? If so, you will have noticed I've been a little silent lately. I have been doing some self-reflection. Plus, I've been busy. Holiday retail and all.
Now it is the beginning of the New Year and it also means self-evaluation. I've also been absent from the blog on purpose, not just due to being busy at work. I have wanted to step away for a little while just to be quiet and listen.
What have I come up with? What have I been thinking about? What did my self-reflection result in?
Meaningful simplicity. A more meaningful Moxie.
I have always pictured myself for years now perched atop my New York City apartment's window, exhaling cigarette smoke while I contemplate the next sentence to type out on my Mac laptop. Oh wait, that is what Carrie Bradshaw does in Sex in the City. Totally unrealistic.
That job is her job, not mine. I think I have finally gotten over that fantasy. Sort of. I still want to write and I still want to write like she did in that show. She did a lot of contemplating, reflection, and thoughtful, meaningful writing about simple and complex relationships.
A more meaningful Moxie will be authentic and real. I will write about real life stuff in a meaningful way, hopefully. This will also be my practice writing, here on the blog, for I will also be writing (on the side) creative nonfiction essays and working on a novel.
No more grit and glam. Well, no more "look at my cute shoes today" blog posts. There will definitely be grit, though. A close blogging friend dubbed the term The Moxie Column. And there is most definitely grit in Moxie, for sure. That will be the authentic part.
So, we shall see. The plan is to post once a week, at least. But you know how plans can sometimes go.
In creating this new lifestyle, I have cut back on other things. I have left groups on Facebook. In fact, I've been cutting way back on my time on Facebook. What a waste of time, a soul-sucking waste of time. I already feel better with the time I have shaved off from lurking around on Facebook.
For social media, I am sticking to mainly Twitter. It's short, sweet, and to the point. I spend a lot less time on Twitter just by default. After a few scrolls through the feed, I'm good to go, I've had enough, satisfied.
What sort of things am I writing? I have three avenues or outlets for my writing. The book or bigger story in fiction, then I have the creative nonfiction essays, and then there is the blog. A promise of a little more authenticity.
I gave my little blog of Grit, Glam, and GenerationX a-go with a year's worth of concentrated effort. And while it was fun, it has been unfulfilling. But it's been fun, I have to admit that part.
Now I have the craving once again to return to my first love – writing, meaningful writing. This always happens. Every single time. Meaningful writing to me is going in that territory that makes me cringe a little.
But I don't want to harp on and on about how scared I am, blah blah blah. Whatever. Just write.
Hopefully, the next time you stop in you will find the next blog post stimulating and something you can relate to in your own life.
Some recent blog topics I have in the queue; Falling Out of Love, The Year of 50, and A List of Regrets.
Stay tuned and Ciao mio Amore,