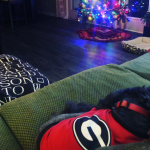 A little late but here is your weekly briefing; brief #3. It's not that I don't want to blog it is finding the time! I love to blog.
At any rate, here is my life in bullet points. I give you Brief #3.
Brief #3
After getting off schedule during the Thanksgiving holiday, I am getting back to normal workouts again.
My birthday is coming up. I requested a special WOD for my birthday.
Go Dawgs! Georga Bulldogs fan by marriage. But really, I sort of have liked them the whole time anyway.
Going to see Murder on the Orient Express this week.
Still having a blast at work. I even created my own mission statement. What?! That's right. Do you want to know what it is? Maybe I'll tell you one day. Or you can stop by the dealership and see me and I'll let you know.
Going to join a business networking group again. I'll be taking over someone else's membership so it is not costing me any money right now. We'll see how it goes. I like the group I am joining though.
I am still talking about our Vegas vacation. What a blast.
I asked Santa for an Apple Watch. 😁
Watching this Xfinity commercial where this new Mom gets to go out for the evening with her girlfriends but she feels the need to monitor her husband watching the baby? Wrong. Just stop it Xfinity. Redo it.
Having lunch with some bloggers this week. Can't wait to catch up and see what everyone is up to these days.
Have you started your Christmas shopping yet? Or are you a last minute shopper? Thank goodness for Amazon, right?
Going to a Christmas sock swap party with some friends later this week. It will be nice to catch up with them as well. It's been a while.
I guess that's it for now. Thanks for reading.
Your Charmingly Bold Generation-X Blogger,