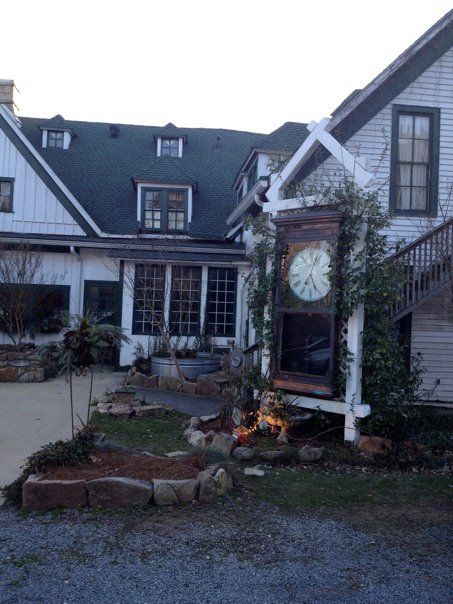 A couple of weekends ago, I had the opportunity to get a way from it all. A sister-friend, myself, and our teenage daughters packed up the cars and headed for Mentone, Alabama. We rented a quaint little 2-bedroom cabin located on a bashful piece of land just a few miles off the beaten path.
Yes, the cabin had wi-fi but I still felt disconnected from the world which was the point. It was nice to unplug for a day or two. I was able to get my vision boards started on that weekend. Yes, I'm proud of those vision boards! I look at them every day and they are a reminder of what I'm trying to accomplish.
The cabin had a jacuzzi on the back deck. I had never been in a jacuzzi before. I know, right! I quickly realized what I had been missing all these years. As I was adjusting to the jacuzzi-induced tranquility, it dawned on me that our home patio/courtyard is perfect for a jacuzzi.
But I digress….please excuse and forgive my day-tripping back to the days of my first jacuzzi experience.
Okay, Mentone, Alabama. Well, I was warned that there wasn't a whole lot to do in Mentone which is really what I was looking forward to anyway. We did find a lovely little art gallery that supports the local artists.
The Forge Gallery is owned by Artist Blacksmith, Walter Howell and his wife, Rhonda. When we were visiting we only met Rhonda and what a lovely delight she was! Everything we commented on or touched or ooohed and awwwed over she could tell us the history of the piece, the artist's background, and a whole lot of other interesting facts. The gallery is small but we could have stayed for hours! The gallery also hosts classes. So if you need to recharge your creative battery then check out The Forge Gallery in Mentone, Alabama.
Upon our day of being out and about, taking in what Mentone had to offer, I found the reason I need to come back to this sleepy little town – The Mentone Springs Hotel. Oh Em Gee! I would have never known that this place was so awesomely cool if I hadn't been brave enough to just strut right into the place like I knew what I was doing. Fortunately for me, the wedding they were having there wasn't due to start for another hour. So I quickly walked the lobby and snapped all the photos I could. I'm coming back to this establishment as a guest! Can you say writer's retreat? Maybe I should bring The Gent on my first stay though.
Mentone Springs Hotel is on the National Register of Historical Places and is one of the oldest hotels in the State of Alabama.
Built in 1884 by Dr. Frank Caldwell of Pennsylvania, the hotel was finished but still lacking a name. Dr. Caldwell was living in the home of John Mason, whose daughter, Alice, had read accounts of Queen Victoria's visit to a place called Mentone in France. The news item had given the meaning of Mentone as "a musical mountain spring." She suggested the same name be given to this spot where a rippling mountain spring flowed.
At any rate, please enjoy some of the photos I took when I strolled through the first floor of The Mentone Springs Hotel. Click on any photo for a larger view.
The Mentone Springs Hotel is listed in the book, "1000 Places To Visit Before You Die." The book is a New York Times best seller.
Check out their website for more information such as wedding venue, festivals, and seasonal room rates. www.mentonesprings.com
If you are looking for something a little more rustic and isolated then I might suggest the cabin we stayed in while we were in Mentone. Found on VRBO.com. You know, the one with the jacuzzi. The jacuzzi on the back deck. The back deck with a view. The view of peace and serenity.
More photos…
Okay, so I had to throw in the photo of an antique store we visited as well to make the photo-layout even. The antique store is right beside the Mentone Springs Hotel, they share the parking lot. And the Forge Gallery? Same thing, all three right there in sort of a horseshoe.
Another surprise for me was the dining experience. The Wildflower Cafe & Country Store was awesomely cute! The eclectic decor and stellar service are worth the trip alone. Oh, and the entertainment filled me with happy-joy. Tony Goggans came over to our table to sing, "Brown Eyed Girl" to all of us. You will have to look him up on their website. It was for my niece's birthday. I think she was embarrassed as any good 17-year old should be but this 40-something year old seasoned gal loved every minute of it. I'm glad we had a reservation because they were slammed packed full!
Mentone is a great place to visit and hopefully I will be able to get back there soon. I'm definitely adding it my places to have a soft landing when I'm making my atmospheric entry from cyberspace. It is just the kind of area to visit when you want to unplug and unwind.
Do you have a favorite place you like to go to unplug?