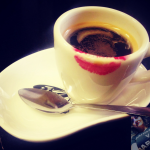 On washing my hair… Who washes their hair every day? No, just me? How come I didn't know this as a child, that you're not supposed to wash your hair every day? Where was I on that day in school when they talked about that topic in general hygiene class; on washing my hair?
I am nearly 51-years old and I only recently found out that I am not supposed to wash my hair every single day. What? It was about two years ago when I started working retail in the cosmetics section of a department store when I discovered this information.
"You're not supposed to wash your hair every day?"
What? Some associates shared with me that they washed their hair once a week or once every three days.
Some women can probably get away with not washing their hair every day. Not me. Nope. I wash my hair every day, always have, since I was a child. Sometimes, I wash it twice a day. 👀 Was that a big collective gasp that I just heard across Madison County? Ha!
One time, I did try to go a few days without washing my hair every day. I made it three whole days. Oh my word, I thought I was going to go insane. My scalp all itchy while my hair lay limp with oil. Gross. Just gross.
I've managed to cut back on twice a day and just condition at night, wash in the morning. But I cannot go several days without washing my hair. Maybe, MAYBE, when my hair gets longer I can try it again.
Dry shampoo I hear works wonders. I've used it a time or two but I didn't use it for what it was intended for. I used it to add a little body to my hair. I like my hair to have body AND BE CLEAN.
I guess once my hair gets longer, below shoulder length, I could use the dry shampoo on the roots. With my hair being longer, it won't get all messed up overnight with bed head while I sleep.
Anyway, thanks for reading!
Your Charmingly Bold Generation-X Blogger,