He loves me. How do I know? Besides the obvious ways, let me count the ways.
It is snowing here in north Alabama and I decided to stay home from work. What do you do on snow days here in Alabama you ask? Why you sign up for your first fitness competition – The Festivus Games!
Continue reading "My First Fitness Competition – The Festivus Games!"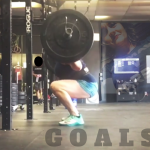 I was scrolling through my Instagram feed for the umpteenth time today when I came across an account that listed their 2018 Fitness Goals. Duh! Why haven't I thought of that? Thank goodness for Instagram right? So, here they are, my 2018 Fitness Goals.