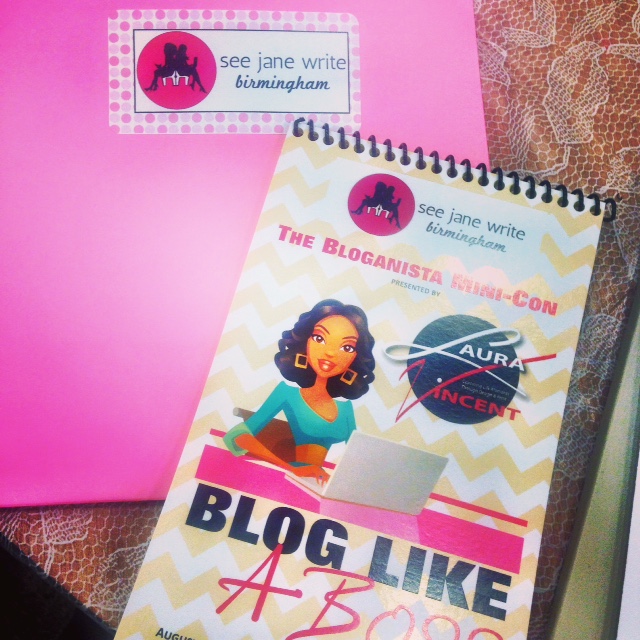 See Jane Write Bloganista Mini-Con
On Saturday, August 1 of 2015, I had the privilege of attending the 2nd annual See Jane Write Bloganista Mini-Con in Birmingham, Alabama. Last year I missed it and regretted it so when the time came around again this year, I blocked it off on my schedule and purchased my ticket early.
THE LINEUP
Morning Mingle – an hour to network and socialize
Morning Keynote – Chanda Temple on personal brand and media coverage
Panel Discussion – Blog Like a Boss; how to grow your audience and turn your blog into a business
LUNCH BY FULL MOON BAR-B-QUE
Panel Discussion – Magazine Dreams; write for, get featured, start your own magazine
COOKIE BREAK
Afternoon Keynote – Jennies Hosey of The Je Ne Sais Quoi shares her secrets to success and dishes on the not-so-glamour side of fashion blogging.
***
Being a seasoned blogger myself, some of the topics were familiar to me, basic and foundational. The information was timely for most of the attendees though; there seemed to be quite a few newbies in the room.
The afternoon keynote speaker was awesome! Jeniese Hosey caught my attention right away and had my blogging heart pumping with excitement. She told about how she made a 24-hour trip to New York City and got to work with brands and help style looks in a show. Then she came home and caught the blogging depression. We bloggers know exactly what that is like and not everyone talks about it. I appreciated Jeniese for sharing this with us all. She also shared something exciting that will be happening for her in September but I cannot say, it still has to remain a secret!
The other main key point I took away from the conference is to start taking myself seriously, as a blogger. To start looking at my blog like a business, a platform for other things. How can I turn Moxie Beautiful into a business, if I choose to do so? First, stop thinking of it as a hobby and start taking a serious look at myself and what it is I want to do, where I want to go.
I'm working on some things, offline, to make some things happen and to start taking myself seriously as a blogger. It's big scary though but isn't it supposed to make you feel scared, and excited?
Here's a short little video I took during pre-conference in the Morning Mingle. Now, I had done this originally as a Live Scope (Periscope) so…..
1.) that is why the camera is vertical and
2.) I have no idea how it got saved to my phone so that I could upload it to YouTube. Because it was on Periscope first. I'll have to check into that.
I would personally like to thank the sponsors too for helping See Jane Write put this conference together.
Laura Vincent Printing & Design
Full Moon Bar-B-Que
WBHM.ORG
Insomnia Cookies
Church Street Coffee
True North Business Development
LightWorks Chair Massage for Corporate Health
Collage Designer Consignment
Birmingham Boutique Blowout
Lil' Seeds Vintage Inspired Jewelry
Thanks for reading and show me your moxie!