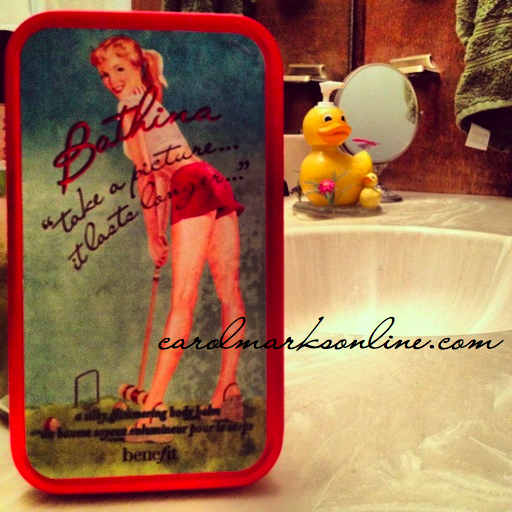 This week's product review is about Benefit's Bathina Body Balm. Now say that three times real fast. I bought this several month's ago when I first discovered all things Benefit Cosmetics. At the time I was not in the market for body care but the cute tin caught my eye. I asked the sales associate about the product and after she told me what it was and especially after I smelled it, I had to have it.
This has been one of my best impulse buys EVER. It has been worth every cent of the $28.00 I paid for it back around Christmas time – that is my best guess of when I purchased this product. I've only used half of it so far.
Benefit Bathina Body Balm
It comes with a cute little puff to apply the balm to your legs, knees, heels, arms, elbows, or wherever. Bathina Body Balm is silky and smooth, leaving your skin with a soft velvety feel. I can't tell you exactly what the fragrance is in Bathina but it smells great, not over powering but very subtle. The closest thing I can use to describe the scent would be a whiff of roses.
I've done some cyber comparison shopping and whether via Sephora, Amazon, Ulta, or straight from Benefit themselves, the price is the same at $28.00 for a 42.5g Net Wt. 1.5 oz. Is the price a little high? Of course it is and this would not be a purchase of necessity.
This packaging makes it easy for travel – no liquid or lotion to leak out all over everything. I'm sure you can think of something creative to recycle the tin when it is emptied.
I would like to purchase another Bathina when the time comes so I'd better start saving my pennies now. I still say it is worth it though. So the only downfall for me is the price and the amount you get for the $28.00. I suppose I could always add it to my Christmas wish list, right?
What about you? What is something you think is a little pricey but think it is worth it?