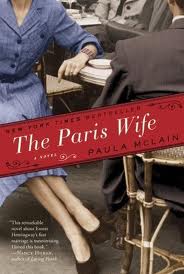 The Paris Wife by Paula McLain
My rating: 3 of 5 stars
The book takes place mainly in Paris. It introduces us to the pairing of Mr. Ernest Hemingway and his first wife Hadley; how they met, how they married, how they lived. It chronicles their courtship, marriage, and the ending of their marriage. The two of them traveled the world over. It also takes us from a young Ernest Hemingway when he first started writing and the other famous authors he met a long the way; Scott Fitzgerald (and wife Zelda), Gertrude Stein, Ezra Pound, and others.
The story is told from Hadley's point of view. There was an occasional omnipotent view thrown in as well; like when Ernest had his affairs and the writer wanted you to know about it without Hadley in the picture.
The writing was good. The story moved. I learned a lot about Mr. Hemingway. He was a selfish man. I kept feeling sorry for Hadley but also angry with her but it was a different time back then for women. I was amazed at how much travel one could do back in that time on so little money.
This was an enjoyable read for me and I appreciated the description of physical places as well as the internal struggles.