Category: Variety
Where everything else goes.
He loves me. How do I know? Besides the obvious ways, let me count the ways.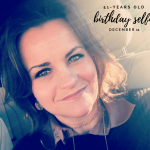 Well hello, there my Little Love Bunnies! Some of you may know that I turned 51-years old recently. Last year I did a post about 50 Things when I turned 50, so guess what; we are doing it again this year. I present to you, 51 Things This Year.
I'm sure it is a bit early for most of you for this type of post but I'm writing about it anyway because it is on my mind right now. I'm reflecting on the year, 2017, and it's not yet December. I can't help it.
Thanksgiving just passed, Christmas is next, then we will be vigorously accosted by the New Year. I don't know about you but these next few weeks will fly by. For whatever reason, the holiday season maneuvers itself through our lives full tilt and it is normally around Valentine's Day before we realize what really happened.